«
»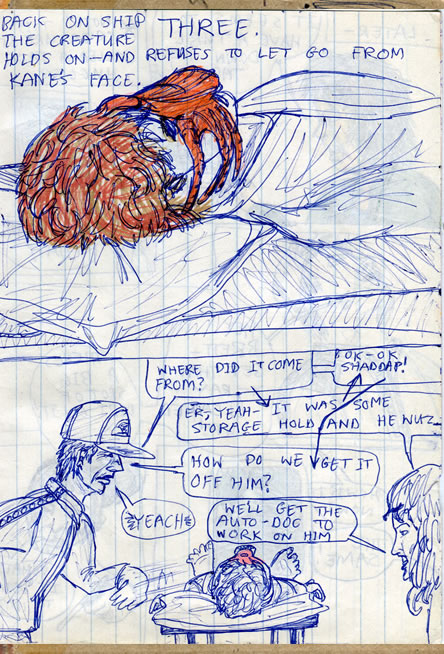 1979
"Yeach!" [13]
And we're into Pt.3 of the epic ALIEN age 11 (later adapted for the screen by Ridley Scott! Update: What happened to Pt.2? It must have been written on a discarded page. I hate those. *sniff*
Ash as you've never seen him before
I think I'm going to have to type Ash in italics from here on
It's official. Ash is the most useless and least curious science officer ever. I mean look at him? Tatty clothes, crappy baseball hat, scruffy unsanitary hair, sweaty. He looks like a grease-monkey.
So, it's up to Ripley to advise on scientific matters. And Ash, clearly, is okay with that. I suppose Ash's contribution was to put Kane on that kitchen table or whatever it is.
You know, I think I'm going to have to Write Ash in italics from here on.
Thanks
Just a quick thank you to those of you who are still reading. I published the later pages all last week due to popular demand. And I think interest waned (they weren't funny). They were the ones that I did when I was a bit older, after finally seeing the official adaptation and the actual film (I think) But! - the voters must be satisfied. You see, I don't know if you're aware - especially if you're new here - but like SWa9 this is something of an exclusive club. Only 18 fans on Facebook so far! If you're a fan too - think of yourself as one of the elite.
Anyway, the vote was a landslide in Aa11 terms: 2 votes and a 'like'.
More yucky ickyness on Friday...